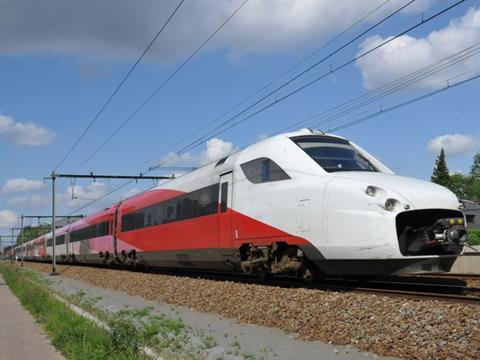 ITALY: Trenitalia has agreed to acquire 17 of the former Fyra V250 trainsets to expand its high speed train fleet. The contract includes five years of 'full-service' maintenance with an optional five-year extension.
According to a notice published in the Official Journal of the EU on August 11, Trenitalia says it finalised the agreement on August 4. Justifying the awarding of a contract without a prior call for tenders, the operator argued that the trains could only be provided by a single supplier for 'technical reasons'. It explained that the agreement was a 'bargain purchase, taking advantage of a particularly advantageous opportunity available for a very short time at a price considerably lower than market prices'.
The 19 trainsets were originally ordered from AnsaldoBreda in 2004 to operate high speed services between the Netherlands and Belgium, but were rejected by NS and SNCB in early 2013 following a series of high profile failures. Repurchased by the manufacturer, the trains remained the property of Leonardo, the former Finmeccanica Group, having been excluded from the sale of AnsaldoBreda to Hitachi Rail Italy.
Trenitalia anticipates that following some technical changes the V250s will be able to operate reliably on medium-speed routes. Thanks to their 25 kV 50 Hz and 3 kV DC capability, the trains are suitable for operation throughout Italy. The first four sets are expected to enter service on Puglia routes in June 2018, replacing ETR485 and ETR600 Pendolinos working Frecciargento and Frecciarossa services from Roma and Napoli to Foggia and Bari. The other 13 will follow over the next year, with two sets being used for spare parts.
The V250s are to be refurbished internally to offer Standard, Premium and Business classes, along with a bistro/bar. Two trains have been sent to the Hitachi Rail Italy plant at Pistoia, and local reports indicate that others are being moved from the Prato freight terminal where they had been stored since returning from the Netherlands. The first reconditioned set is expected to be unveiled at the Expo Ferroviaria event in Milano in October.