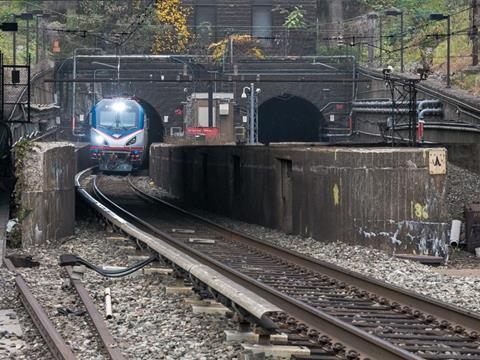 USA: Hopes of progress in the Gateway Programme to build new tunnels between New York and New Jersey were raised on March 22 when $650m of federal funding was directed to Amtrak's Northeast Corridor.
The Gateway Programme covers a series of enhancements worth approximately $30bn to the busiest section of the NEC between Newark and New York. New double-track trans-Hudson tunnels would be built at a cost of $13bn to supplement the existing bores that were badly damaged by superstorm Sandy in 2012, and the programme also covers replacement of the Portal bridge swing near Secaucus, for which preparatory work has already started. Expansion of New York Penn station and capacity improvements in New Jersey are also among the elements covered.
Amtrak's NEC allocation is contained in the so-called Omnibus Bill worth $1·3tr that will support federal government spending until September. However, there had been fierce debate among policymakers about whether the Gateway project could be included in the measure after President Donald Trump had specifically barred it from receiving federal funding.
Accordingly there is no mention of Gateway in the wording of the bill, and this has been seen as a victory for Trump by those close to the president.
The project had been seen having strong political backing under the Obama administration, when it was widely expected that the federal government would underwrite around 50% of the cost, with the states of New York and New Jersey covering the rest between them. Yet this consensus collapsed last December when the Federal Transit Administration announced that no such agreement existed. Federal Transportation Secretary Elaine Chao also commented that, given the relative wealth of the two states and the large proportion of commuter rail passengers who are carried through the existing Hudson tunnels, the states should pay a greater share.
Nevertheless, the programme has strong backing from both Democrat and Republican policymakers in the northeast, led by Senate Minority Leader Chuck Schumer, a staunch opponent of Trump. He said that the Amtrak budget allocation would enable approximately $540m to be spent directly on Gateway, allowing more elements of the programme to be initiated. The bill also raises the possibility of project promoter Gateway Development Corp applying for up to $2·9bn in Department of Transportation grants to support further work. However, a DoT statement on March 22 said the bill 'removed preferential treatment for the Gateway projects'.
Although approved by the House of Representatives, the Omnibus spending package must now be ratified by the Senate before becoming law.