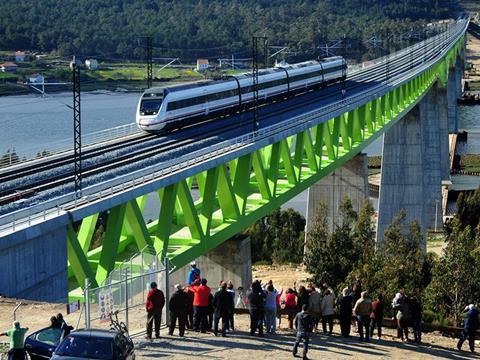 SPAIN: Renfe introduced a new timetable on the A Coruña – Vigo route on April 18, featuring express services operated with Class 121 EMUs which according to the national operator have increased capacity by 40% and cut journey times by up to 58%.
Renfe reports that 6 200 tickets or nearly 100% of total capacity were sold for travel on the first day, when 100% punctuality was achieved with all services arriving within 10 min of schedule.
The new timetable marks the completion of the upgrade of the A Coruña – Vigo route, including electrification, double-tracking and the construction of new alignments which have shortened the distance by rail between the two cities from by 21∙8 km to 155∙6 km.
The average journey time between A Coruña and Santiago de Compostela has been cut from 33 min to 28 min, and between A Coruña and the new station at Vigo Urzáiz from 2 h 10 min to 1 h 23 min.