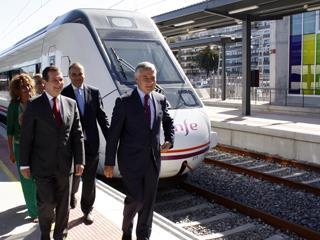 SPAIN: RENFE services began calling at a temporary station in Vigo in the northwestern region of Galicia on August 28, following the offical opening of the new facility by Development Minister José Blanco the day before.
With three platforms 285 m, 165 m and 100 m long and a two-storey station building covering a total of 2 000 m2, Vigo Guixar has been built at a cost of €17·5m.
This temporary facility will be used by trains while Vigo's existing station is rebuilt from September 24 under a programme costing €650m, which will see the tracks lowered by 15 m to accommodate a new 8 km twin-tube tunnel from Redondela.
A 122 548 m2 station, shopping and leisure complex is to be built above the platforms, with the Ministry of Development due to select later this year one of two consortia bidding to form a joint venture with ADIF to build and operate the new facility, designed by US-based architect Thom Mayne.
Work to upgrade the Vigo - A Coruña route, including new double-track alignments designed for electrification and conversion to 1 435 mm gauge, has now been completed on 88·7 km out of 155·6 km. The Ministry of Development is aiming to complete the high speed line between Madrid and Galicia towards the end of 2015.