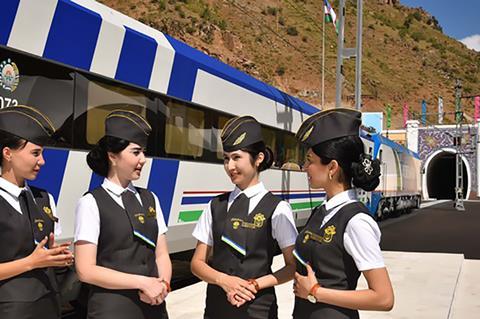 UZBEKISTAN: The Asian Development Bank has approved a US$121m loan to complete the modernisation of the rail network in the Ferghana Valley.
The work is intended to stimulate economic growth and improve trade and regional connectivity along Central Asia Regional Economic Co-operation Corridor 2.
The loan announced on November 11 follows from a US$80m loan which ADB approved in 2017 to support electrification of 145 km of single track railway between the cities of Pap, Namangan and Andijon. This was finished in August this year, completing electrification of the 331 km railway ring in the Ferghana Valley.
ADB said the latest loan would be used to increase freight capacity and the frequency of passenger trains, eliminate gaps in signalling and telecommunications networks, and train staff in modern train management techniques.
'The project will enhance the attractiveness of railways as an environmentally friendly, reliable, and affordable mode of transport', said Ko Sakamoto, ADB Principal Transport Specialist for Central & West Asia.
ABD said railways were 'proving to be the most reliable and sought-after mode of transport for freight' during the coronavirus pandemic.