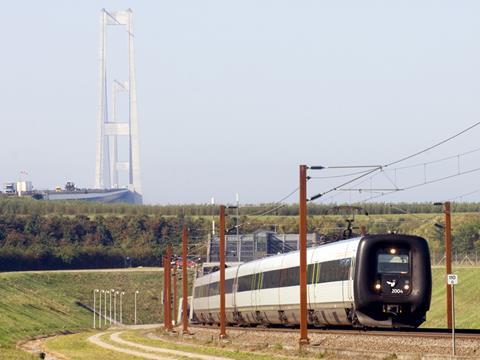 DENMARK: Infrastructure manager Banedanmark has awarded Grontmij a €1·1m contract to identify sections of the København - Odense route where speeds could be raised to 200 km/h, with the aim of giving an end-to-end journey time of 1 h.
This could require new alignments to remove curves, and changes to bridges and overhead electrification equipment. Grontmij is also undertaking studies to increase speeds on the Køge - Næstved line from 120 km/h to 160 km/h.
Banedanmark has also awarded Atkins and Grontmij a contract to undertake design work for the upgrading of the 20 km Vamdrup - Vojens line, the last section of single track on the route through Jylland to Germany.
The project will include double-tracking, electrification, upgrading the signalling at four stations, bridge replacements, embankment widening and subgrade renewals. This was priced at DKr700m in 2009, but last year the government allocated an extra DKr55m to enable works to be undertaken more rapidly to reduce disruption to freight services. Completion is planned for 2015.