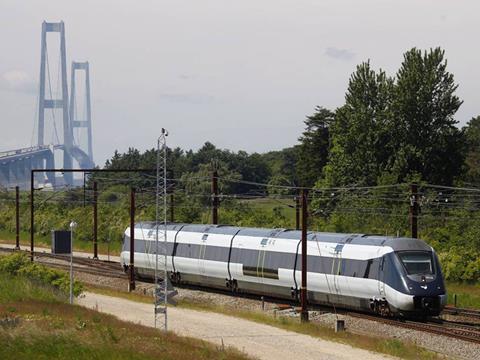 DENMARK: Electrification of all main lines 'as soon as practicable' and works to reduce each leg of a København - Odense - Aarhus - Aalborg journey to 1 h are to be financed from North Sea oil revenues through a DKr27·5bn Togfonden DK infrastructure investment fund, the government announced on March 1.
Transport Minister Henrik Dam Kristensen said the investment would 'shape the future of rail by implementing a historic improvement of train services'.
The aim is to public transport's market share to increase sustainability and reduce road congestion. Future rolling stock orders could be based on 'proven' electric trains to avoid a repeat of the problems affecting the IC4 inter-city DMU fleet.
Projects needed to provide 1 h journey times between the cities will include a new double-track high speed line on Fyn, a new bridge over Vejle Fjord, and a new alignment south of Aarhus.
A cross-party agreement to build a DKr3·5bn replacement Storstrøms Bridge was announced on March 21. The combined road, rail, pedestrian and bicycle bridge is to be completed in 2021, allowing 200 km/h running on the Fehmarn Belt route from København to Germany.
Value, DKr bn
Togfonden DK investment programme

Project
Cost, DKr billion
Completion
Infrastructure
Direct Odense - Middelfart line in western Fyn
5·4
Vejle Fjord bridge to bypass Vejle
4·0
Hovedgård - Aarhus new alignment
3·4
Fredericia - Aarhus line speed increases
1·1
Other journey time reduction works
4·9
Electrification
Fredericia - Aalborg
5·0
2020
Roskilde - Kalundborg
1·2
2022
Vejle - Struer
1·5
2025
Aalborg - Frederikshavn
1·0
2025
Total
27·5