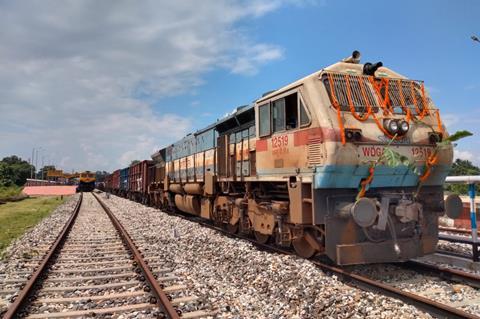 ASIA: Regular freight services on the 10 km cross-border line between Haldibari in India and Chilahati in Bangladesh restarted on August 1 after a hiatus of 56 years.
Indian Railways dispatched a train loaded with aggregates from Damdim on the Northeast Frontier Railway for export to Bangladesh.
Around 20 freight trains a month are expected to use the reinstated broad gauge cross-border line. Traffic from India to Bangladesh is expected to included stone, grain, fresh fruit, fertiliser, onions, chilies, garlic, ginger, fly ash, clay, limestone and wood, with various exports traveling from Bangladesh to India.
The line had been ceremonially reopened by Prime Minister of India Narendra Modi and his Bangladeshi counterpart Sheikh Hasina during a virtual bilateral summit in December 2020. In March Modi announced plans to reintroduce an international passenger service, but this has not yet been launched because of the Covid-19 pandemic.
Seven cross-border rail links between India and what was then East Pakistan were operational between 1947 and 1965 but then closed. Five of these routes have now been reopened with a view to improving connectivity and boosting trade, while India and Bangladesh have committed to revive the remaining two.