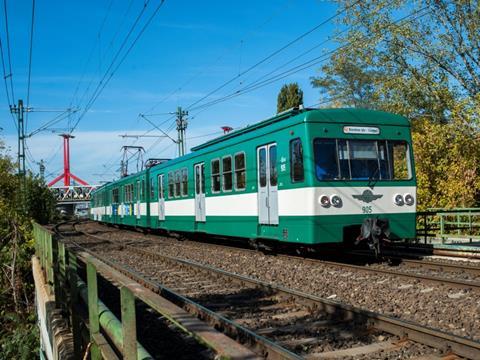 HUNGARY: The government has approved projects to develop the suburban rail network serving Budapest. It plans an investment in the region of HF1tr, to be partly funded by the EU.
HÉV lines H6 and H7 are to be connected by building a new section of track at Közvágóhíd, and extended north in tunnel from the current H6 terminus at Borános tér to Kálvin tér. The section between Közvágóhíd and Borános tér would also be rebuilt in tunnel. HÉV services would be extended south along the existing main line to Kelebia.
The tunnelled extension to Kálvin tér is envisaged as the first phase of metro Line M5 in the longer term, and the government plans to seek EU funding for this project in the 2021-27 budget period.
Also proposed is a renewal of Line H5, serving the north of the city. A feasibility study is to be carried out for a connection of H5 with H6/H7 through a tunnel under the Danube in the longer term.
Lines H8 and H9 are also to be upgraded. An earlier plan envisaged through running from these routes to metro Line M2, but it is not clear whether this will be taken forward.
The entire HÉV fleet of 98 electric multiple-units is to be replaced, as their average age is currently 42 years.
A feasibility study is to be carried out into the construction of a tunnel linking the main line termini at Déli and Nyugati to allow through running of trains between the east and west of the country. In the longer term Nyugati would become the city's main station.
Budapest transport authority BKK has terminated its contract with Scheidt & Bachmann for the supply of an electronic ticketing system. Only some of the hardware and none of the software has been delivered four years after the contract was signed.