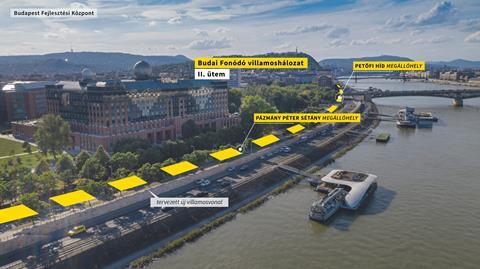 HUNGARY: The city of Budapest has approved plans to build a 2∙8 km tram route between Budafoki út/Dombóvári út and Szent Gellért tér, along the Buda side of the River Danube. Project management and delivery is to be undertaken by government development organisation BFK.
BFK CEO Dávid Vitézy announced in July that the national government had approved the project and allocated funding for planning, which is expected to last 18 months, after which an agreement on final project costs is to be reached between the city council and the government before the start of construction.
Forming a branch off the existing network at Szent Gellért tér, the new line would serve the university district along the bank of the Danube and the office and residential redevelopment zone near Infopark where a headquarters for petrochemicals group MOL is to be built. An interchange with the proposed Nádorkert railway station, next to Infopark, will also be provided.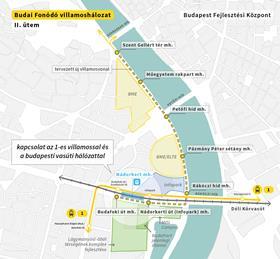 The project forms part of the second phase of the fonódó villamoshálózat (interweaving tram network) programme, the first phase having been completed in January 2016. This has enabled the creation of two long north-south corridors, linking the Bécsi út/Vörösvári út terminus with the southern parts of Buda.