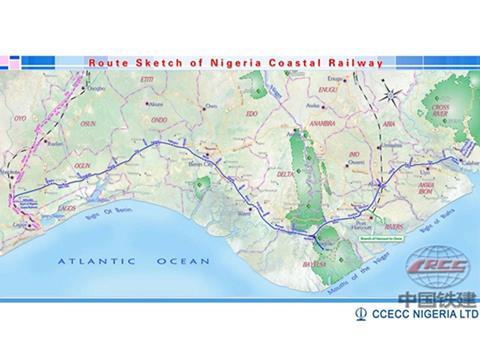 NIGERIA: China Railway Construction Corp and the federal government officially signed the US$11·97bn contract to build the Nigerian Coastal Railway linking Lagos and Calabar at a ceremony in Abuja on November 19. According to CRCC, the deal is the single largest international contract awarded to a Chinese firm.
CRCC's parent company China Civil Engineering Construction Corp has been developing the project since 2010, and signed a framework agreement on May 5 during a state visit by Chinese Premier Li Keqiang, who committed to provide more investment and technical expertise. The signing of a Memorandum of Understanding was announced by President Goodluck Jonathan in Calabar on September 2.
The 650 km route will link Calabar in the east to Aba, Port Harcourt, Warri, Benin City and Lagos in the west, passing through 10 states, requiring 1 385 km of 1 435 mm gauge track. The east-west corridor will augment NRC's existing north-south lines running inland from Lagos and Port Harcourt to Kaduna as well as the Warri – Ajaokuta – Abuja line.
According to CRCC, the line is to be built to 'Chinese standards', with a maximum speed of 120 km/h. Chairman of the state-owned construction company Meng Fengchao told the state news agency Xinhua that the project would require Chinese exports totalling US$4bn, including construction machinery, steel products and rolling stock. Describing the scheme as 'a mutually beneficial project', Meng predicted that it would create up to 200 000 local jobs during the construction and around 30 000 permanent posts once the line is operational.