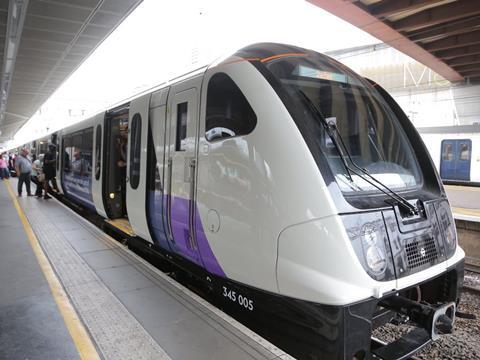 UK: The Crossrail commissioning programme has reached a further milestone, with the first gauging run of a Class 345 trainset through part of the cross-London tunnels scheduled to take place on the night of October 27-28.
Engineering trains have been operating through the tunnels since the completion of tracklaying earlier this year, but this is the first visit by one of the Bombardier-built Aventra EMUs that will operate Elizabeth Line services through the core from December 2018.
Because the overhead lines have not yet been energised, the gauging trial will see the EMU hauled at low speed by a Class 37 diesel locomotive. The test train will run from Stratford, entering the tunnel at the Pudding Mill Lane portal. It will run as far as the junction at Stepney Green and then reverse over the southern branch through to Abbey Wood before stabling at Plumstead sidings.
Commissioning work is in full swing on the eastern section of the core, designated Zones 1 and 2. This will be the first section where the overhead line is to be energised, currently scheduled for November 14. Trial running will then commence on this section, being progressively extended westwards as the trackwork, stations and other equipment are commissioned.
The Crossrail construction teams are due to hand the completed core over to Transport for London in mid-2018. This will allow operating concessionaire MTR Crossrail to undertake staff familiarisation ahead of the planned Phase 3 launch of revenue services between Abbey Wood and Paddington from the December 2018 timetable change.