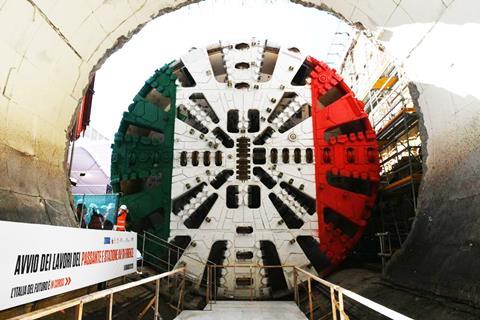 ITALY: Work on the 7 km twin-bore tunnel to carry the country's north-south high speed under Firenze was officially inaugurated on May 15, with the launch of the first tunnel boring machine near Campo di Marte station.
The ceremony was attended by Minister of Infrastructure & Transport Matteo Salvini, the President of Tuscany region Eugenio Giani, Firenze mayor Dario Nardella, FS Group CEO Luigi Ferraris, and Carlo Luzzatto, CEO of the main contractor Impresa Pizzarotti.
The tunnel is intended to carry the Milano – Roma line through the northern part of Firenze, serving the dedicated high speed station at Belfiore. It will enable the high speed services to be segregated from the conventional lines, freeing up capacity on the surface tracks leading into Firenze's Santa Maria Novella terminus and avoid the need for through trains to reverse.
Admitting that 'the project for the bypass and the Belfiore station has gone through many critical moments over the years', Ferraris said 'today we are taking up this path again with determination and optimism that comes from the convinced support of the government, regional and municipal administrations'.
A €1bn contract for excavating the tunnel and completing the unfinished Belfiore station was awarded to Impresa Pizzarotti & C and Saipem in December. Project management of the €2·7bn programme is being undertaken by Italferr, and completion is now envisaged by 2028.
Work on the tunnel is expected to ramp up to full speed in the coming weeks, in parallel with the construction and fitting out of the new station.
Running at an average depth of 20 m, the tunnel will start from Campo di Marte to the east of the city and rejoin the existing line at viale XI Agosto between Castello and Rifredi stations to the north.
The twin bores are to be excavated by a pair of 1 500 tonne TBMs, with an external diameter of 9·4 m, and will be connected by cross-passages every 500 m. The machines are expected to progress at an average speed of about 12 m per day. Spoil from the excavations will be removed by train and used for the restoration of a ENEL-owned former lignite quarry at Santa Barbara in the Valdarno region.