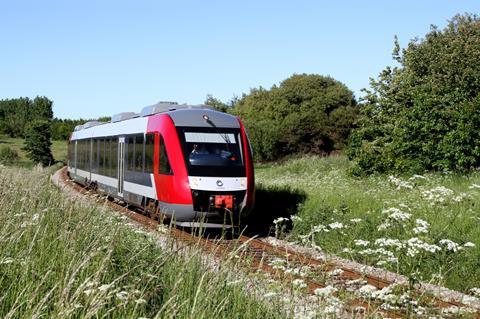 DENMARK: A feasibility study for converting the Østbanen local railway in eastern Sjælland into a busway is to be undertaken following an agreement between Minister of Transport Benny Engelbrecht and the regional council.
The jointly-funded DKr3·5m study is to be undertaken in parallel with a current study into modernisation of the railway which links Køge with Rødvig and Faxe Ladeplads. Both studies are to be completed by June.
Østbanen operator Lokaltog recently reduced the maximum speed of services from 100 to 75 km/h because of the condition of the track. Infrastructure renewals are expected to take 2½ years and cost at least DKr660m, which the regional council does not have, and so the authority wants to study all the options before making a decision on the best way forward.
Announcing the agreement to undertake a bus rapid transit study on January 28, Engelbrecht said the development of electric and driverless buses might provide new opportunities for 'high quality, cheap and climate friendly' public transport. Buses could be cheaper to operate, with the cost saving covering the busway construction costs. Buses would also be able run through onto existing roads, enabling services to be extended to destinations such as an educational campus in Køge.
Chairman of the regional council Heino Knudsen said the Østbanen was a lifeline for residents, and a good public transport service was needed. Any BRT option would be required to provide least the same level of service, and the overall cost must be financially neutral. 'It is about finding the solution that gives citizens the fastest transport and as many departures as possible', he explained.
The BRT study does not affect a previous agreement for the region to take over responsibility for train services on the Køge – Roskilde route, with operations from the end of 2020 to be undertaken by Lokaltog which is owned by local authority bus company Movia (75%), various councils and private investors.