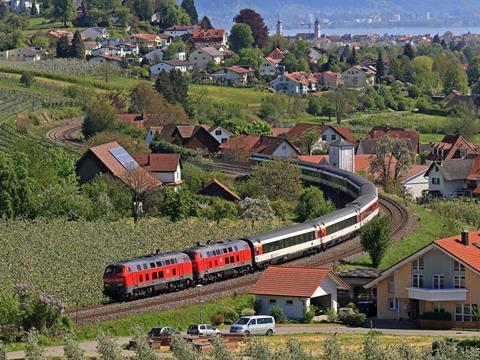 GERMANY: Deutsche Bahn has awarded SPL Powerlines Germany contracts with a total value of €13m for electrification of the VE03 Mindelheim – Stetten and VE04 Memmingen – Leutkirch sections of the München – Zürich route.
Powerlines is to install a total of 465 masts, 481 cantilevers, 38 km of high-strength AC-100 Elcorim catenary cable, 59 km of feeder line and 4 km of return feeders. The contractor said the feeder line would be installed 'unobtrusively' along the overhead electrification, so there would be no need to install new transmission lines in the Allgäu region.
Completion is scheduled for December 2020.
CEO Gerhard Ehringer said Germany is one of Powerlines Group's most important markets, and he is expecting 'very stable and sustainable business in the coming years' following the passing of the federal transport infrastructure plan.
Work to upgrade the route from München to Zürich and reduce the journey time to 3½ h is being funded by DB, the Land of Bayern and the German and Swiss governments. In addition to electrification, the project includes modernisation of Türkheim and Kißlegg stations, track changes to raise line speeds and improvements to levels crossings and bridges.
An article on the upgrade of the München – Zürich corridor appeared in the October 2015 issue of Railway Gazette International magazine, which subscribers can access in the digital archive.