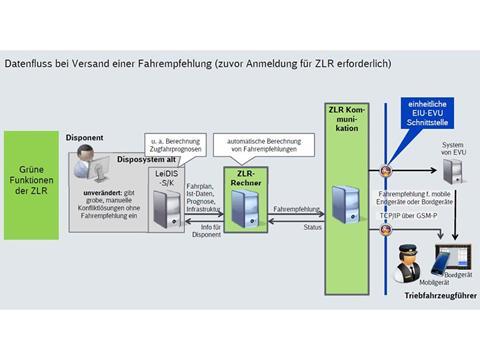 GERMANY: This month, infrastructure manager DB Netz has introduced 'green wave' train running functionality to support the use of connected driver advisory systems. Train operators seeking to improve their energy efficiency have been encouraged to sign up to the service at 0·315 euro cents per path-km.
Available on all routes equipped with train describers in the signalling centres, the system provides advisory recommendations as standard messages via an open interface; this allows the technology to be used by any train operator on a non-discriminatory basis. Information can be transferred directly to registered receivers in the individual locomotives via GSM-P or via an IP connection to the train operator's own central server for subsequent distribution.
The technology is designed to support both central and onboard processing, known by DB Netz as DAS-C and DAS-O respectively. It provides two key functions. 'Planfahren' offers DAS recommendations that will assist trains in adhering to the planned timetable, such as running below the maximum speed or coasting to avoid early arrivals at stations or junctions. The 'Nachfahren' function comes into play when trains are operating out of course, advising drivers to slow down in order to avoid unnecessary braking or stops when following another train.
Under DAS-C, the standard messages are generated in the DB Netz operations control centres using the timetable data, live train running information and performance forecasts. The messages provide the optimum speed, 'delta speed' difference from the permitted maximum, the recommended location for the change to take effect, and a 'reason code'. The infrastructure manager says the system takes 'full consideration of the operational situation' to ensure that the advice does not create additional delays for the train receiving the recommendations or any other trains in the area.
For DAS-O, the messages provide a time window for arrival at the next target point, a location reference and the reason code, leaving the onboard system to calculate its own recommendations based on GPS location data.
DB Netz emphasises that responsibility for processing the messages and deciding how to present the information to the driver is down to the individual operator, although it has provided some suggested display configurations.