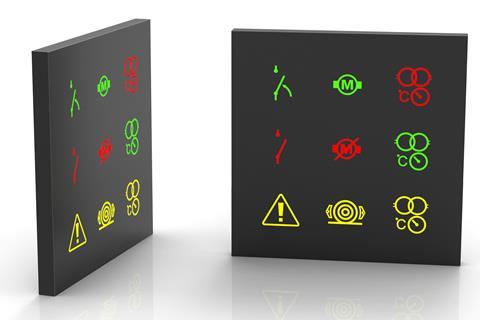 PANEL: EAO now offers a customisable multi-legend alarm indicator for train cabs, which can include features such as dimmable illumination and a lamp test switch.
The panel size, array layout and 'secret until lit' symbol sizes are customisable, with the 8 mm mounting depth fitting into driver's desks and control panels, as well as in other railway applications where the space envelope for the status indicators may be limited. Panels can be front or rear mounted using adaptors or studs.
Every alarm indicator is electrically independent to ensure operational safety, with redundant illumination of each element. The complete system of indicators is controllable using a bus interface and/or digital IO, which allows easy integration with existing systems. In addition, the indicator modules can be provided with dimmable illumination and the lamp test functionality is effective and immediate with a capacitive touch sensor included in the alarm panel.
The Multi-Legend Alarm Indicator conforms to EN 45545 and offers connectivity with up to 36 tiles in each module and is suitable for 24 and 110 V DC systems. Its modular construction ensures short engineering and production lead-times even for new product configurations.