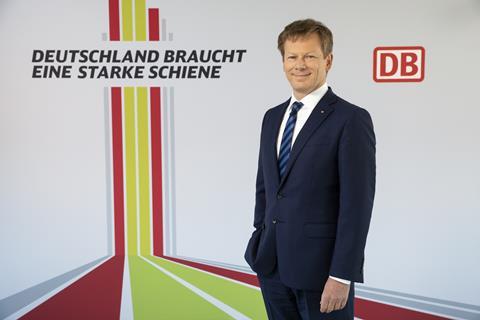 GERMANY: Currently Chief Operating Officer at Deutsche Bahn AG, Christian Gruß is to become Managing Director for Sales & Timetabling at DB Netz with effect from October 1.
The appointment forms part of a series of changes to the infrastructure manager's management board designed to help deliver the DB group's new 'Strong Rail' strategy. The reshuffle was approved by the DB Netz Supervisory Board on September 20.
A graduate in business administration, Gruß had previously worked as Head of Operations at DB Netz. He succeeds Thomas Schaffer, who is moving to the management board at DB Regio Bus with responsibility for the 'Strong Bus' programme. Having headed the Sales & Timetabling unit since 2015, Schaffer oversaw the restructuring of the track access charging structure and the establishment of cross-industry working groups to address issues such as the co-ordination of engineering possessions and capacity management.
DB Netz Chief Financial Officer Jens Bergmann is to become Chief Executive Officer for Major Projects & Network Planning; he had previously served as Managing Director of DB Engineering & Consulting GmbH before joining the infrastructure manager. He will be succeeded as CFO by Christian Runzheimer, currently Managing Director for Finance & Control at DB Vertrieb GmbH.
Prof Dirk Rompf is stepping down from the Management Board at the end of September, having been responsible for major projects and strategic development since 2014, including the launch of the Netzkonzept 2030 strategy. Meanwhile, Human Resources Manager Ute Plambeck has been confirmed in post for a further five years.