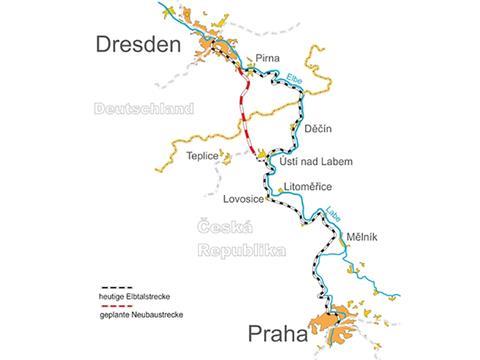 EUROPE: The construction of a 26 km Erzgebirge/Krušné hory base tunnel under the German-Czech border is recommended in the feasibility study for a new line between Heidenau and Ústí nad Labem which is proposed to increase speeds and capacity on the Dresden – Praha corridor.
Presenting the conclusions of the study on January 14, the Land of Sachsen's Transport Minister Martin Dulig said the topography makes it impractical to increase capacity on the existing line along the River Elbe, which is a bottleneck on the TEN-T Orient/East–Mediterranean Corridor between the north German ports and the Balkans.
He said the new line could reduce Dresden – Praha passenger journey times from more than 2 h to 50 min, as well as providing a significant increase in freight capacity and reducing noise and air pollution in the Elbe Valley. The line would also be less vulnerable to flooding.
The EU-backed feasibility study began in mid-2014. It was undertaken by consultants including Krebs & Kiefer on the German side and a joint venture of Mott MacDonald and Sudop Praha on the Czech side, supported by Sachsen and Czech ministries, infrastructure managers DB Netz and SŽDC and the Technical University of Freiberg.
Dulig said the proposal was 'long-term and forward-looking', and experience of other major projects had showed that it is important to start planning work early, involve all stakeholders and ensure transparency.
The Land of Sachsen plans further studies of the geology and hydrology, and is to put forward the project for inclusion in Germany's federal transport infrastructure plan.