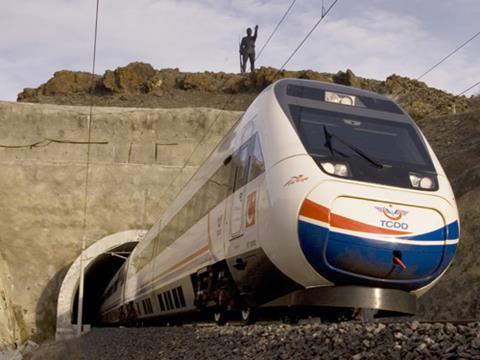 TURKEY: The European Investment Bank has announced that it is to provide a further €200m in funding for the Ankara – Istanbul high speed line project, which is due for completion next year.
The funding agreement was signed at a ceremony in Ankara on June 10 attended by EIB President Werner Hoyer and Turkish Treasury Under-Secretary Ibrahim Canakcı. The additional contribution brings EIB's funding for the project to €1·5bn since 2006, and its support for the Turkish rail sector overall to €2·5bn.
The new line forms an extension to the existing 251 km high speed corridor between Ankara and Eskisehir; trains to Istanbul would rejoin an upgraded main line corridor at Köseköy before sharing tracks with high-capacity suburban services between Gebze and Istanbul.
It remains unclear whether TCDD's long-distance services will continue to serve the historic terminus at Haydarpaşa on Istanbul's Asian shore, or use the Marmaray tunnel to the European side of the city, opening of which is expected at the end of October.
'I am pleased to bring further EIB support for this flagship project linking Europe with Asia, and I have been informed with pleasure that it is now progressing well towards its finalisation', Hoyer said. 'This [loan] facility further consolidates Turkey's efforts to rebalance its transport mode mix in favour of railways.'