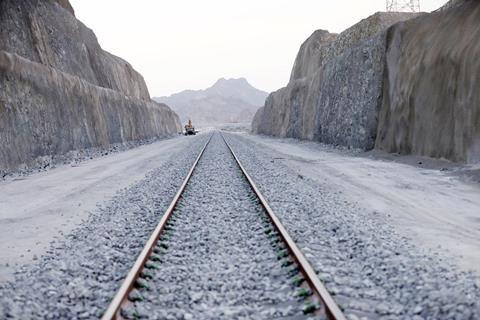 UAE: Etihad Rail has reached a further milestone in the development of its national railway network, with the completion of tracklaying for the main line in the emirates of Sharjah and Ras Al Khaimah.
The 45 route-km in Sharjah and the 5·7 km connection to Ras Al Khaimah form part of Stage 2 Package D, which covers the 145 km section of line linking the Dubai border to the ports of Fujairah and Khorfakkan on the Gulf of Oman. This is being built by a joint venture of China Railway Construction Corp and National Projects & Construction under a 4·6bn dinars contract awarded in December 2019.
This section passes through the difficult geography of the Al Hajar mountains, requiring nine tunnels totalling 6·9 km as well as 54 bridges and 20 animal crossings.
According to the national railway developer and operator, tracklaying for the main line through the two emirates was completed in 25 months, requiring 13 million work hours from around 3 250 workers. Tracklaying in the emirate of Fujairah is expected to be completed in the next few weeks.
'Today, we have made remarkable strides by completing the main works for the UAE national rail network in Sharjah and Ras Al Khaimah', said Deputy Project Manager Eng Khuloud Al Mazrouei on October 12. 'We would like to extend our sincere appreciation to the local government entities in the emirates of Sharjah and Ras Al Khaimah for their momentous support in making this project a reality.'