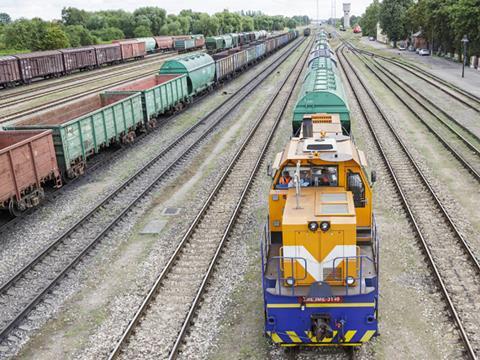 LATVIA: The EU's Cohesion Fund is to provide €318·5m to support the electrification of the main east–west corridor and the replacement of diesel locomotives.
Only around 14% of Latvia's 1 860 km network is currently electrified, well below the EU average of 55%, with electric traction currently only used for passenger services.
Phase 1 of the national 25 kV 50 Hz electrification programme covers the routes radiating from Krustpils to Daugavpils (89 km), Rēzekne (95 km) and Riga (129 km), with completion planned by the end of 2023.
The cost is estimated at €441m, with EU sources to cover €347m of the cost and national railway LDz the remainder.
Electrification is expected to reduce the costs of freight transport by enabling an increase in maximum train weight to 9 000 tonnes, cut maintenance costs and allow speeds to be raised to 160 km/h. It could also to help attract transit freight traffic, generating revenues for the state budget, and reduce wear on roads by encouraging the transfer of domestic freight from lorries.
'By cutting costs and travel times, this Cohesion Policy project will boost jobs and Latvia's economy by facilitating transit traffic and trade through the Baltic States', said European Commissioner for Transport Violeta Bulc on July 12. 'At the same time, Latvians will breathe cleaner air and it will improve road safety.'
'In August LDz celebrates its 100th anniversary, and I am delighted that on the eve of this important event we have received the European Commission's positive decision on electrification', said LDz President Edvīns Bērziņš. Services would be 'modern and environmentally friendly', he added, with electrification being another step towards meeting EU environmental standards.