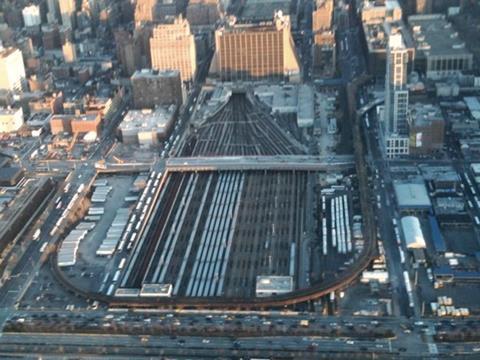 USA: Outgoing Federal Transportation Secretary Ray LaHood confirmed at a ceremony in New York on May 30 that $185m of federal funding would be made available to build a concrete shell to carry the proposed New York Gateway tunnels through a property development into an expanded Penn Station.
The 244 m tunnel box would be built adjacent to the Hudson Yards used by New York MTA's Long Island Rail Road to stable commuter trains. MTA and property developer Related Companies have agreed to redevelop the land around and above the sidings, but these proposals did not make allowance for a new pair of bored tunnels under the Hudson River envisaged by Amtrak's Gateway project.
Proposed at a cost of $15bn, the Gateway tunnels would carry Amtrak's Northeast Corridor inter-city services and provide much-needed relief to the existing twin bores which link Secaucus Junction with Penn Station, which are shared by Amtrak and NJ Transit.
Opened in 1910, the Hudson bores flooded during Superstorm Sandy in October 2012, and the federal funding to protect the Hudson Yards alignment has been allocated as part of the investment to enhance the resilience of transport infrastructure in the northeastern USA to severe weather events.
'The federal funding makes it possible for Amtrak to begin construction this summer on a project to preserve a pathway for two new rail tunnels into New York that are critical for the future mobility and economic growth of the entire Northeast region', commented Amtrak Chairman Tony Coscia. 'This project will protect the only viable right-of-way for connecting the tunnels to the existing tracks and platforms at Penn Station, New York.'