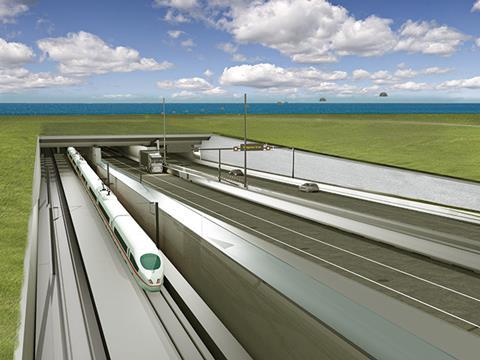 EUROPE: On March 4 Fehmarn Belt fixed link project promoter Femern A/S was granted Danish political authorisation to negotiate contracts with its preferred bidders for the main tunnel works contracts.
Femern A/S will present the results of the negotiations to the Danish Minister of Transport before signing the final contracts, scheduled for May. The contracts will be conditional on the German government granting permits for the project, at which point construction of the 18 km immersed tube tunnel between Rødbyhavn on Lolland and Puttgarden on the German island of Fehmarn would begin.
The negotiated contracts will be valid until the end of 2019, with an option to renegotiate at that time. In May 2013 nine major international consortia prequalified to submit tenders. Bids were evaluated with a 50% technical and 50% price weighting.
Fehmarnbelt fixed link preferred bidders
Immersed tunnel, including the factory which will produce 89 pre-cast concrete elements.
Femern Link Contractors
Contractors
Vinci Construction Grands Projets (France)
Per Aarsleff (Denmark)
Wayss & Freytag Ingenieurbau (Germany)

Max Bögl Stiftung & Co (Germany)
CFE (Belgium)
Solétanche-Bachy International (France)

BAM Infra (Netherlands)
BAM International (Netherlands)
Subcontractor
Dredging International (Belgium)
Consultant
Portals and ramps, including connections to the existing motorways and railways
Femern Link Contractors
Dredging the 18 km trench and land reclamation
Fehmarn Belt Contractors
Contractors
Boskalis International (Netherlands)
Hochtief Solutions (Germany)
Ed Züblin (Germany)

Van Oord Dredging & Marine Contractors (Netherlands)
Consultant