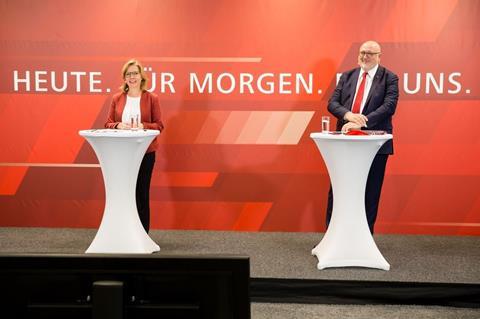 AUSTRIA: 'More than €17bn is being spent on railway projects across the whole country', said Federal Minister for Climate Protection Leonore Gewessler on October 16, announcing with Austrian Federal Railways CEO Andreas Matthä 'the biggest railway investment package that the Republic has ever seen'.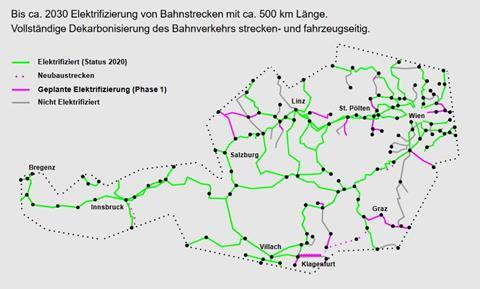 Highlighting the programme as another step in the battle against climate change, Gewessler explained that the €17·5bn infrastructure spending package for 2021-26 had been agreed by the Council of Ministers two days earlier. Among the commitments is a promise to electrify the entire Austrian rail network by 2035. At the moment around 3 500 km of the 4 865 route-km network is electrified at 15 kV 16∙7 Hz, and another 500 km is to be wired by 2030. The aim is to make all rail traffic on the ÖBB network CO2 neutral by 2035.
Apart from electrification, the investment concentrates on expanding S-Bahn services in and around cities, making regional lines more attractive, adding capacity and ensuring better utilisation of the network by freight traffic, and digitalisation of maintenance and operations to improve efficiency.
ÖBB Infrastruktur is expected to spend around €640m a year on maintenance and a similar amount on renewals. Electrification and other works to improve the attractiveness of rail will total €2·1bn over the five years, while €530m will be spent on rail freight, including the installation of lineside noise barriers and the retrofitting of wagons with quieter brakes, as well as freight terminal improvements.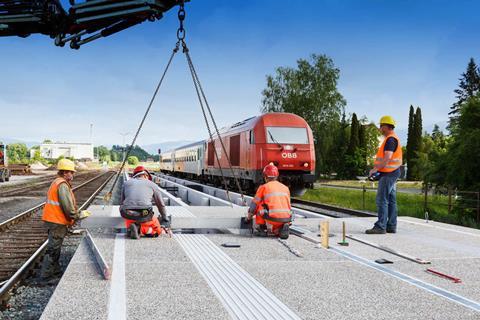 The improvements are aimed at delivering a national regular-interval passenger service with 'optimal connections' at major nodes as well as shorter journey times. This will make rail more competitive with the private car, 50 min being saved on a trip between the city centres of Wien and Graz and 1 h 20 min between Wien and Klagenfurt.
Projects in the 2018-23 investment programme will continue, with €8bn allocated to new schemes. Examples cited by ÖBB include upgrading of the Wien S-Bahn between Meidling and Floridsdorf using satellite-based train control, allowing the number of trains operated to increase from 700 to 900 a day, and platform extensions to permit the operation of longer trains.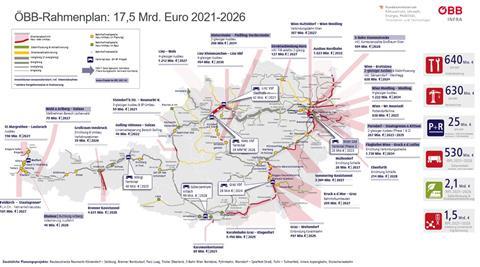 Matthä confirmed that S-Bahn and regional services had seen strong growth in patronage in recent years. Despite the downturn occasioned by coronavirus, he emphasised that 'we must invest in a modern and efficient railway that is fit for the future. We must be prepared for the time when the corona crisis is over'.
'The severe climate crisis will motivate more passengers to switch [to rail]', Matthä explained, pointing out that the busiest parts of the network were already full at peak times, 'with both passenger and freight traffic suffering.'
Open access operator Westbahn welcomed the 'impressive' investment package but urged that all railway businesses be offered financial support to see them through the pandemic, at least until mid-2021. Only if that happens 'will European rail traffic be able to grow again and become more attractive after corona', it said. The government support package put in place from April 4 under which ÖBB and Westbahn jointly operated the Wien – Salzburg route ended on October 7, with the two operators reinstating their competing hourly services the following day.