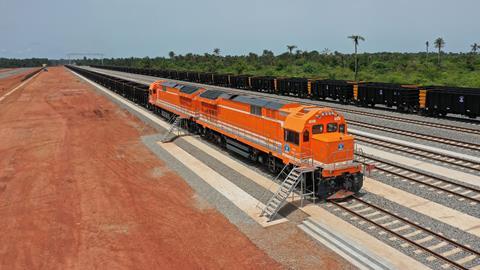 GUINEA: President Alpha Condé attended the inauguration on June 18 of the 125 km Santou – Dapilon railway, which has been built by the Société Minière de Boké-Winning consortium to link bauxite deposits at Santou II and Houda with the River Nunez port of Dapilon near Kolabouio.
The first significant railway project in Guinea since the 1970s forms part of SMB-Winning's US$3bn investment in the Boffa-Boké bauxite scheme. This includes mining, transport and processing infrastructure. The line has been built to carry ore, but the future transport of industrial and agricultural products is envisaged.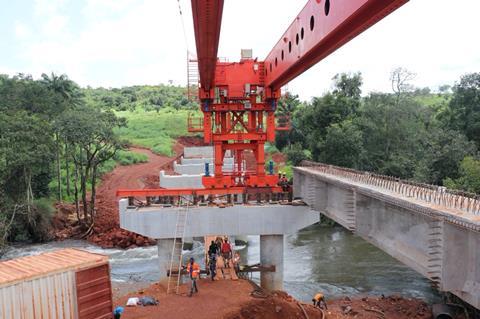 The railway is a 'win-win project' which will significantly contribute to the growth of the mining industry and the economic development of the country, said SMB-Winning consortium President Sun Xiushun during the ceremony.
The consortium comprises Singapore's Winning Shipping, French logistics company UMS, which has been active in Guinea for more than 20 years, and Chinese aluminium producer Shandong Weiqiao. The Guinean government is a 10% shareholder.
The main contractors for the US$1·2bn railway were China Railway 14th Bureau Group and China Railway 18th Bureau Group, which began construction in March 2019. The line has 21 bridges, two tunnels at Gaide Guieli (1 901 m) and Kourakoto (2 833 m) and six freight yards.
CRRC Qishuyan has supplied eight DF8B 3·3 MW Co-Co twin-cab and six CDA5A1 single-cab diesel locomotives for use on the line, and 500 hopper wagons were ordered for the project.