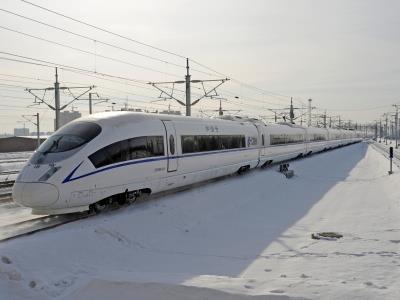 CHINA: The 921 km Passenger-Dedicated Line between Harbin and Dalian opened to traffic on December 1, connecting the capital of Heilongjiang province with Changchun, Shenyang and Dalian, the largest port in northeast China. Designed for a maximum speed of 350 km/h, the route serves a total of 22 stations, including existing stations at Changchun, Shenyang, Shenyang North and Liaoyang.
The new route is connected to the Changchun – Jilin PDL spur that opened in 2011, enabling through trains from both directions to serve Jilin. Four Harbin – Beijing services a day also use the PDL between Harbin West and Shenyang, before joining the conventional route to Beijing.
Services normally operate at up to 300 km/h, but during the coldest winter months from December 1 to March 31 the maximum speed is limited to 200 km/h. The special timetable includes a Harbin West – Dalian North journey time of 5 h 15 min, a saving of 4 h on the fastest conventional timing.
As well as delivering a significant reduction in journey times, the Harbin – Dalian PDL is expected to free up paths for freight on the conventional network, increasing capacity between Shenyang and Dalian by 11⋅5 million tonnes a year, and between Shenyang and Harbin by 10 million tonnes.