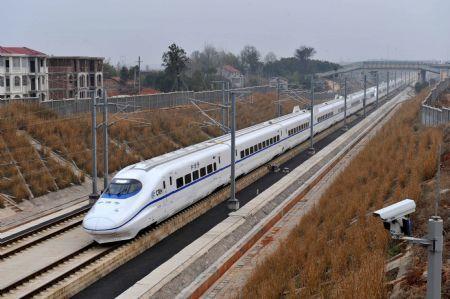 CHINA: Further rail projects have been authorised, despite the problems at the Ministry of Railways and media concerns about the cost of the massive expansion programme.
The National Development & Reform Commission has approved the proposed 329 km double-track line from Qianjiang in Chongqing province to Zhangjiajie and Changde in Hunan, which is expected to cost 34·8bn yuan. Chongqing Municipal Development & Reform Commission will co-ordinate with the Ministry of Railways to establish a joint venture to undertake the project.
A feasibility study for the 30bn yuan Huaihua – Shaoyang – Hengyang line in Hunan province has also been approved, and detailed design of the 313 km double-track mixed-traffic 200 km/h route has begun.
Construction of the 260 km Hangzhou – Huangshan railway is set to commence this year, with an alignment designed for 200 km/h running; the main traffic is expected to be passengers.
Investment in railway construction in Liaoning province will reach 26bn yuan this year, with the opening of the Tonghua – Guanshui, Liaoyang – Anping, Xiuyan – Zhuanghe, Wafangdian – Wudao, Yingkou coastal, Panjin port, and additional Dahushan – Xinlitun lines.
Tracklaying has been completed on the 904 km Harbin – Dalian Passenger-Dedicated Line which will open by the end of this year. Work started in August 2007, and the project has cost 92bn yuan.
Xinjiang Uygur Autonomous Region has given the go-ahead for seven projects totalling 81bn yuan and 3310 km, including a second double-track Lanzhou – Urumqi line, electrification and upgrading of the Hongliuhe – Kazakh border section of the existing route, the Turpan – Korla secondary line, the Kuqa – Ehuobulake and Hami – Lop Nor lines and the Hami southern freight ring.
On March 18 the second generation of CRH2 EMUs entered service on the Nanchang – Jiujiang – Wuhan inter-city route. The CRH2179 and CRH2180 units offer improved passenger comfort with private compartments available, with an overall capacity of 600 passengers.