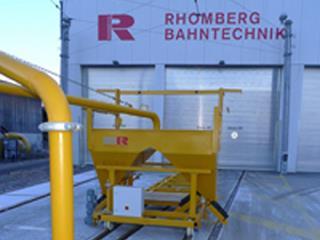 USA: Rhomberg Bahntechnik's Heber high-output concrete paving system is to be used to lay the trackbed for the No 7-Flushing Line extension of the New York Subway.
Bregenz-based Rhomberg Bahntechnik is to supply its Heber concrete rail paver to RailWorks Transit under a €0·5m contract. The self-propelled trackbed paver features a patented lifting and laying system which applies precise quantities of concrete in a top-down method to achieve an optimum density with small air pockets.
Rhomberg's engineers have already made several visits to the construction site to liaise with RWT and New York City Transit officials; the paver is expected to be shipped to the USA shortly and commence operations in June. The 2·4 km extension from Times Square to 34th Street/11th Avenue is expected to open by December 2013.