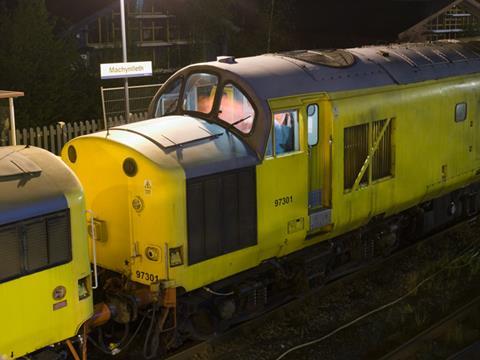 UK: The 'Verification Train 3' developed by Hitachi Rail Europe to test ETCS Level 2 onboard equipment has successfully concluded a series of running trials on the Cambrian line in mid-Wales, the company reported on June 11.
The overnight tests, which began on April 22, were designed to assess whether Hitachi's ETCS onboard equipment could interact in compliant fashion with the lineside equipment on Network Rail's ETCS Level 2 Early Deployment Scheme on the 210 km Cambrian route, which links Shrewsbury with Aberystwyth and Pwllheli. V-Train 3 is a former British Rail Class 37 locomotive owned by NR, which is being used to test ETCS equipment; Hitachi has developed two previous verification trains to test traction equipment and battery-hybrid technology.
Hitachi reports that the Ansaldo STS lineside equipment was able to detect the V-Train in a range of operating scenarios, including shunting mode, on sight operation and Full Supervision. Similarly, the company says that the V-Train was able to communicate with the Radio Block Centre at Machynlleth 'without any system failures'. The test programme would now be extended to assess performance in a range of potential operating scenarios along the length of the Cambrian line, explained Richard Tomlin, Signalling Project Manager at Hitachi Rail Europe.
'The success of the Hitachi trials demonstrates NR's continued commitment to supporting the purveyors of ETCS onboard systems and to providing interoperable ETCS in the UK', added Jim Doughty, NR Project Manager for the Cambrian EDS.