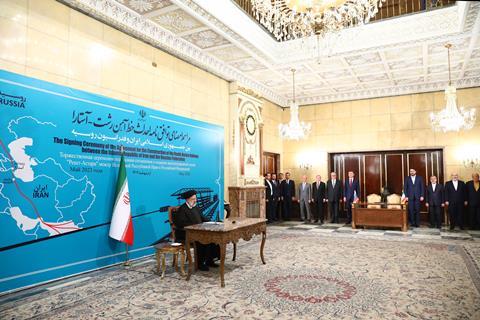 IRAN: An intergovernmental agreement for the construction of the 162 km Rasht – Astara railway in northern Iran was signed by the transport ministers of Iran and Russia during a video conference between the national presidents on May 17.
The cost of the project is put at €1·6bn, with Russia to finance €1·3bn of this as an interstate loan. Construction is planned to take four years.
Completing the missing link would provide a boost to the International North–South Transport Corridor linking Russia with the Caucasus and Caspian regions, the Gulf and South Asia.
The national railways of Russia, Azerbaijan and Iran are discussing a trilateral agreement for operations on the corridor, which Russian Deputy Prime Minister Alexander Novak said could carry 15 million tonnes of transit freight per year and grow to rival the Suez Canal as a major global trade route.
Iran's President Ebrahim Raisi said the capacity of Iranian ports is also to be increased, and the country is planning improved connections to Pakistan, Turkey and Iraq.