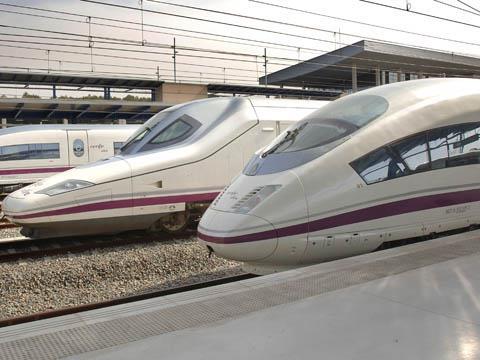 SPAIN: Two PPP contracts for the supply and installation of railway equipment on the Madrid - Ourense high speed line were approved by the board of infrastructure authority ADIF on March 30. Both contracts include maintenance over a period of 25 years.
A consortium of Ferrovial Agromán, Tecsa, Vías y Construcciones, Iberovías and Cosfesa has been awarded a €198·2m contract covering tracklaying on the Olmedo - Pedralba de la Pradería section. Work between Olmedo and Zamora is due to take seven months to complete, with the Zamora - Pedralba to be completed within 11 months.
Under a contract worth €180·8m, Elecnor, Cobra, SEMI, Electren, Balfour Beatty Rail Ibérica and CYMI are to supply and maintain electrification equipment for Olmedo - Pedralba. Work is to be completed between Olmedo and Zamora within nine months, and between Zamora and Pedralba within 12 months.
Both contracts are to be executed by special-purpose vehicles in which ADIF will have a 10% stake. ADIF is to provide 40% of the expected project cost during the construction phase, with the remainder to be provided over the life of the contract.
The ADIF board has also authorised the award of two civil works contracts for the Cerdedelo - Prado section of the Madrid - Ourense route, where a separate bore is being constructed for each track. The 8·9 km left-hand bore is to be built by a joint venture of Coprosa, Construcciones Rubau and Insersa for €104·5m, while the second 8·8 km bore is to be built by Corsán-Corviam and Taboada y Ramos for €88·4m.
Similarly, civil works on the 9·1 km Prado - Porto section have been divided into two contracts, with that for the right-hand track awarded to Vías y Construcciones, Torrescámara and Vimac for €123·25m. Work to be completed within 34 months includes the 7·6 km Prado tunnel, as well as a second 1·71 km tunnel at Corga de Vela for both tracks.