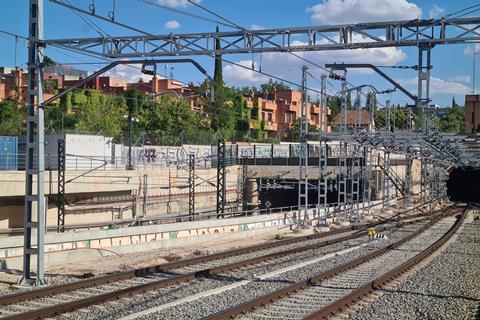 SPAIN: A cross-city tunnel between Madrid Atocha and Chamartín with two 1 435 mm gauge tracks opened on July 1, integrating the standard gauge lines to the north and south of the capital.
Through trains no longer need to use gauge-changers at Atocha and Chamartín, reducing cross-country journey times by up to 20 min.
The depot at Fuencarral has also been integrated into the 1 435 mm gauge network, providing greater flexibility in the movement of rolling stock.
Capacity boost

The project began in 2007 when it was envisaged that usage of Atocha station would increase by 326% by 2025, stretching the capacity of the two existing cross-city tunnels to the limit and creating problems on the high speed line to the south of Madrid.
To address this, a new 1 435 mm gauge line was proposed to the east of the existing tunnels. Boring of the 7·3 km tunnel began in 2010, with an initial cost estimate of €206m and opening planned for 2013.
However, the scheme was subsequently expanded to include construction of a double track line south to provide four tracks between Atocha and Torrejón de Velasco where the Levante high speed line to València, Alacant and Murcia diverges from the high speed line to Sevilla.
The cost of both schemes was then budgeted at €826m. The final cost has since risen to €338m for the cross-city tunnel and €734m for the line south, which brings the new alignment to a total of 34·4 km. A 7 km chord is to be inaugurated in the near future to avoid the need for through services between the Levante line and the south to reverse at Atocha.
The cross-city link has required integrating the LZB train control dating from 1992 on the Madrid to Sevilla line, the ETCS Level 2 installed by Thales between Madrid and Valladolid in 2007, and ETCS Level 2 installed on the Levante line by Siemens in 2010.
The current track configuration is temporary, as a subterranean station with four tracks and two island platforms is to be built under Atocha. Design work is being undertaken by Rafael Moneo, and construction contracts have not yet been awarded.
For the time being, the only trains using the cross-city line will be Classes 130 and 730 on Alvia services linking Galicia, Asturias and Cantabria with Andalucía and Levante.
Ouigo is planning to launch a service from Madrid-Chamartín to València in the autumn.