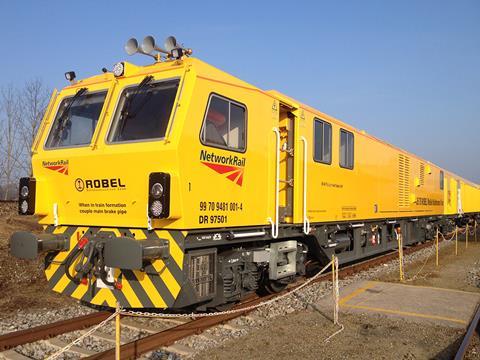 UK: The first of eight self-propelled Mobile Maintenance Trains which Robel is supplying to infrastructure manager Network Rail has entered service.
The key feature of the MMT is the extendable cover over the floodlit working area, which provides staff with protection from the weather and from trains passing on adjacent tracks. The train also incorporates a workshop, two 2 tonne cranes, and power points for electrical, hydraulic and pneumatic tools. Crew facilities include a welfare area with a kitchen and toilet.
'With passenger numbers growing and demand for freight increasing at record levels, the need to keep the railway open round the clock is greater than ever before', said NR Maintenance Director Neal Lawson. 'These new trains mean our frontline staff can complete a wide range of maintenance and repairs more quickly and efficiently, reducing the need for costly and disruptive closures of the tracks'.
The first MMT is based at Darlington and will be operated and maintained by Colas Rail under a three-year contract. The second is due to arrive in October and will be based at Paddock Wood, followed by the third in December which will operate from Derby. The remaining five MMTs will be based at Woking, Retford, Romford, Peterborough and Horsham.