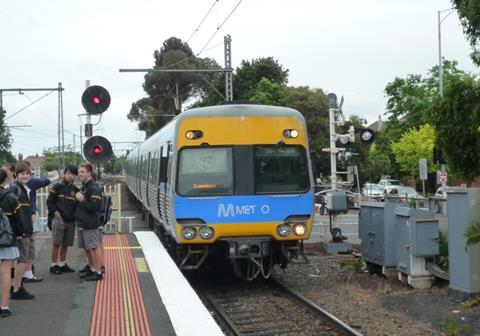 AUSTRALIA: The Victoria state government announced on May 19 that it had awarded a A$524m contract for the elimination of four level crossings in southeast Melbourne, as part of a commitment to remove 50 of the city's busiest and most dangerous level crossings over eight years.
A consortium of John Holland and KBR has been selected to remove the crossings at Burke Road in Glen Iris, Centre Road in Bentleigh, McKinnon Road in McKinnon; and North Road in Ormond. As with recent crossing removal projects elsewhere on the Metro Trains Melbourne network, the railway is to be lowered into a cutting, which will require the reconstruction of the stations at Bentleigh, Ormond, McKinnon and Gardiner with low-level platforms and fully accessible entrances.
Visiting McKinnon for the announcement, state Premier Daniel Andrews said 'these level crossings frustrate motorists, hold back our train system and put lives at risk every day. The only way to fix them is to get rid of them.' Minister for Public Transport Jacinta Allan explained that 'delivering the works at the four sites as one package' would see the projects completed sooner and with less disruption.
Work is set to get underway shortly on the Burke Road crossing on the Glen Waverley line near Gardiner station, where planning has been underway for some time. This busy crossing carries Yarra Trams route 72, requiring complex interlocking between the two lines and their respective overhead electrification systems.
Public consultation will start shortly for the other three crossings, which are adjacent to each other on the Frankston line and will be removed in a single project. The work is due to be completed in 2018.
According to the government, a contract is to be awarded shortly for a second batch of four crossing removals, and expressions of interest will be invited for level crossing works as part of the Cranbourne-Pakenham line upgrading.