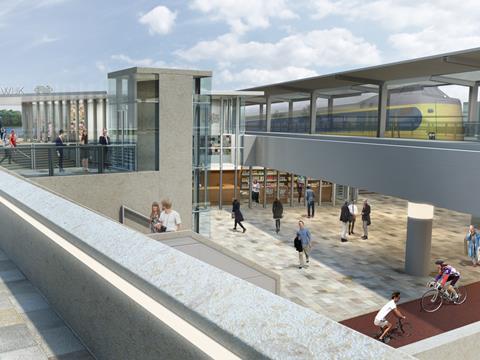 NETHERLANDS: Infrastructure manager ProRail has confirmed that the station at Harderwijk is to be rebuilt by the end of 2016, under an accord signed with national passenger operator NS, the town council and Gelderland province on March 26. As well as improving passenger facilities, the reconstruction will eliminate two level crossings on the busy main line between Amersfoort and Zwolle.
Under a renewal project supported by the Ministry of Infrastructure & Environment, a new underpass for pedestrians, cyclists and car traffic will replace the existing level crossing connecting Stationslaan and Oranjelaan immediately east of the station. A second underpass will replace the Weisteeg crossing to the southwest of the town on the route towards Amersfoort. The existing station building dating from 1983 is to be replaced and the whole station area 'refreshed', with better bus interchange facilities, expanded park-and-ride provision and more bicycle parking.
Construction is expected to start later this year for completion by the end of 2016. The new cycle and pedestrian tunnel at the station will be ready later this year, although the Stationslaan level crossing will remain until the road tunnel is finished in the second half of 2016.