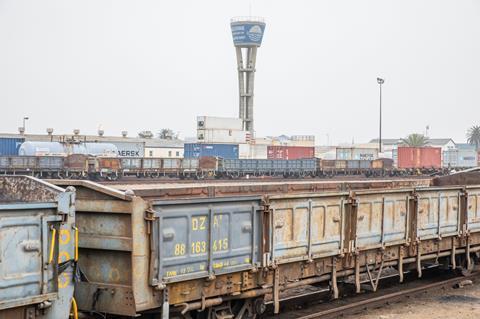 NAMIBIA: The African Development Bank has approved a US$196·4m loan to support the second phase of Namibia's Transport Infrastructure Improvement Project.
The loan approved on October 31 will cover 51·8% of the total cost, leaving the Namibian government to provide the remaining 48·2%.
The project aims to tackle railway bottlenecks to help facilitate trade in southern Africa as part of Namibia's Vision 2030 programme. Much of the work is focused on upgrading of the main line linking Walvis Bay, Kranzberg, Otjiwarongo and Tsumeb.
The Bank previously supported the modernisation of the 210 km section of the corridor between Walvis Bay and Kranzberg, along with the expansion of the container terminal at the Port of Walvis Bay.
The second phase of the programme involves the modernisation of 207 route-km between Kranzberg and Otjiwarongo, laying 518 km of new track with concrete sleepers close to the existing 1 067 mm gauge main line. It will require the construction of 16 new bridges and the renovation of two stations. The work also includes the modernisation of signalling to improve reliability, capacity and safety on the whole corridor.
The railway passes through both urban and agricultural areas. The upgrading is expected to benefit freight shippers, agricultural communities and industry, as well as reducing road maintenance costs as bulk cargo shifts to rail.
Leïla Mokaddem, AfDB Director General for Southern Africa, said the project would be 'transformative for the competitiveness of Namibia and assist in attaining the vision of the country becoming a regional logistics hub by 2030 while catalysing development change in neighbouring countries and the subregion'.