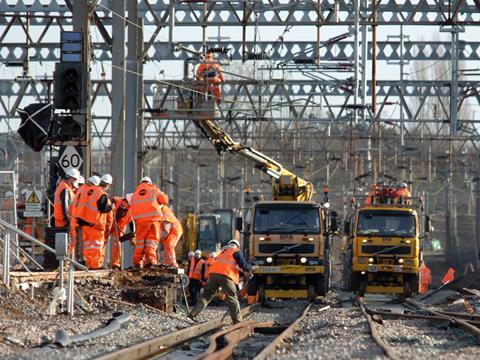 UK: Infrastructure manager Network Rail has awarded Balfour Beatty, AmeyInabensa, CarillionPowerlines and ABC Electrification a total of six geographical framework contracts for its £2bn electrification programme.
The agreements announced on February 4 run for seven years, with the potential for three one-year extensions.
Network Rail electrification framework agreements
Region
Supplier
Supplier details
Southern
AmeyInabensa
Amey/Inabensa joint venture
Central (London North Western, South)
ABC
Alstom, Babcock and Costain
Central (East Midlands)
CarillionPowerlines
Carillion/SPL Powerlines 70:30 joint venture
Central (London North Western, North)
Balfour Beatty
Scotland & North East
CarillionPowerlines
Western & Wales
ABC
Jeremy Candfield, Director General of the Railway Industry Association, said the frameworks would 'encourage suppliers to invest in the training and equipment needed for the growing national electrification programme and pave the way for suppliers' greater involvement to maximise the efficient delivery of the projects.'
'Our work to electrify two thousand track-miles [3 200 track-km] represents the biggest programme of rail electrification in a generation and will provide faster, quieter and more reliable journeys for millions of passengers every week while cutting the cost of the railway', said Simon Kirby, Managing Director of Network Rail's Infrastructure Projects division. 'To deliver this work in the safest and most efficient way possible, we need to make the most of the huge potential within our supply chain.'
According to Network Rail, once electrification schemes including the Great Western and Midland main lines, Liverpool to Manchester and Preston, the Valley Lines in South Wales and the 'electric spine' from Southampton to the West Midlands and Yorkshire are complete, more than half of the network would be electrified, with electric trains accounting for three-quarters of all traffic.