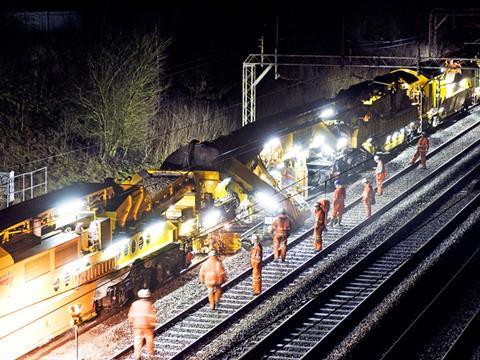 UK: On May 12 infrastructure manager Network Rail announced preferred bidders for five regional contracts to undertake plain line and switch & crossing track renewals during Control Period 5 running until March 31 2019, when over 7 000 track-km is due to be replaced.
To be phased in 'over late summer 2014', the new contracts include enhancements as well as renewals work. For the S&C contracts, NR has adopted an alliance approach combining its skills with those of the track designer and installer.
NR also announced that operation of its high-output track renewals plant is to be brought in-house when the current national contract held by AmeyColas expires in March 2015. This would create 'a less complex organisation with greater stability', supporting NR's commitment to 'further improvements in workforce safety, train performance and value for money', while enabling 'long-term investment in people and machinery'.
Around half of the 1 200 personnel working on the high-output programme will be affected, and NR says that it is now working with the contractors as well as unions RMT and TSSA 'to facilitate a safe and effective transition' during 2014-15. Currently responsible for 65% of all track renewals, the high-output team operates two track relaying trains and five ballast cleaners owned by NR.
CP5 plain line track renewals
Preferred bidder
Area
Value, £m*
Babcock
Western, Wales & Wessex/Scotland/LNW South
200
Carillion
LNW North/LNE & East Midlands
100
Colas
Kent & Sussex/Anglia
75
*Approximate value over five years.
CP5 switch & crossing alliances
Preferred bidder
Area
Value, £m*
AmeySersa
North (Scotland/LNE & EM/LNW North)
400
Colas/URS
South (Anglia/Kent & Sussex/Western, Wales & Wessex/LNW South)
400
*Approximate value over five years.