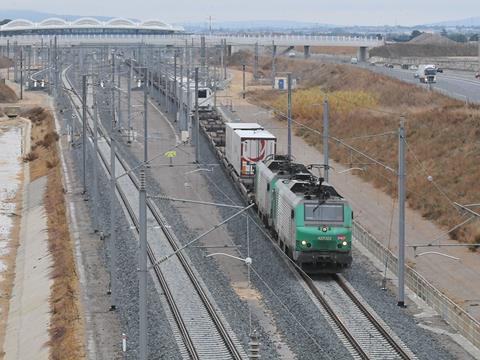 FRANCE: A pair of Class 27000 Alstom Prima dual-voltage freight locomotives hauled the first commercial freight train over the Contournement Nîmes – Montpellier on December 10.
The 60 km bypass line has been built by contractor Oc'Via under a 25-year concession starting in 2012. Test trains were diagrammed over the route from June, and Oc'Via handed the line over to SNCF Réseau on November 13.
For the moment the line is carrying no passenger trains. The first passenger services are not expected to serve Montpellier-Sud de France until July 2018, and even then, only a limited service will operate pending opening at the end of 2019 of a €95m station at Nïmes-Manduel, where the new line intersects the conventional line from Nîmes to Tarascon. Earthworks for the station started in September, and main construction is scheduled to commence in March 2018.