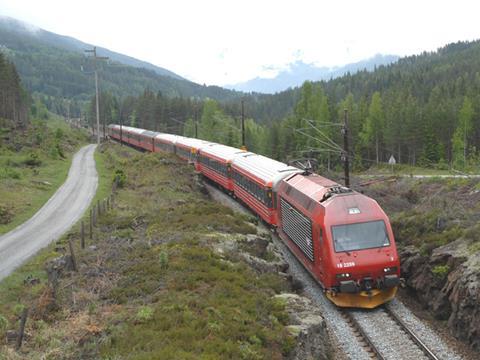 NORWAY: National infrastructure manager BaneNOR is pushing ahead with its national ERTMS roll-out following the award of three key contracts as part of an NKr20bn 10-year digitisation programme. Formal contract signing is expected at the beginning of April.
The BaneNOR board agreed on March 14 to award the NKr5·5bn trackside installation contract to Siemens. This will see the implementation of ETCS Level 2 across the entire 4 200 km network over the next two decades. It will enable the elimination of the current legacy signalling equipment dating from the 1950s, which has become obsolete and increasingly expensive to maintain.
Alstom has been selected to supply onboard equipment for around 400 locomotives, multiple units and maintenance machines under a second package valued at around NKr2bn. BaneNOR has taken the lead in procuring the onboard equipment to be fitted to rolling stock owned and operated by 14 separate train operators and leasing companies. Working with the vehicle owners, the infrastructure manager will fund the development and testing of the onboard equipment under a generic application contract valued at NKr1·3bn, but each owner must then negotiate a separate installation contract with Alstom for its own fleet. The government has agreed to reimburse up to 50% of the cost of retrofitting any vehicles that were in use before the end of 2016, but later stock is expected to be delivered ETCS-ready.
BaneNOR anticipates that all rolling stock will be equipped by 2026, when the Oslo area will be switched over entirely to ETCS. The whole programme is due to be completed around 2034.
The two ETCS contracts follow on from the award of a NKr600m contract to Thales at the end of February for the development and implementation of a national traffic management system. This is intended to replace three older installations and is expected to bring significant improvements in performance and reliability.
ERTMS Programme Director Eivind Skorstad said the award of the three contracts marked a major milestone in the Norwegian resignalling strategy, and would put Norway at the forefront of digitalisation among European railways.
As part of programme development, ETCS Level 2 was inaugurated on an 80 km section of the Østfoldbanen southeast of Oslo in August 2015.