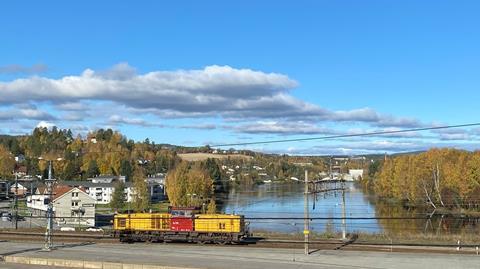 NORWAY: Trial running has started with the first diesel locomotive to be equipped with Alstom's latest ETCS onboard equipment as part of the national ERTMS programme.
A Class Di8 diesel locomotive has been fitted with train control systems meeting the latest Baseline 3 Release 2 specifications. The equipment has now been certified by the Independent Safety Assessor following intensive testing over the last few months at the system lab at Campus Nyland, Bane NOR's ERTMS testing, training and competence hub near Oslo.
The locomotive will be used for demonstration testing in Norway to prove the compatibility of the onboard systems with earlier generations of the ETCS trackside specifications, which meet the Baseline 2 and Baseline 3 Release 1 standards.
Trial running is starting with a 10-day trial on Bane NOR's designated test route between Roa and Hønefoss, with the loco being monitored remotely from the test lab at Nyland. Before the end of this year, the loco is due to visit Sweden for trials on a test track fitted with matching B3R2 lineside equipment.
Under a June 2018 framework contract negotiated with Bane NOR on behalf of 14 participating railway vehicle owners, Alstom is supplying onboard equipment for the national ERTMS programme. Retrofitting work is being undertaken at a depot adjacent to the Nyland campus. According to Bane NOR, the onboard systems contract covers 467 trains of 55 different types. Series installation is due to begin in 2021, ready for the start of commercial service in 2022, and the work is expected to be completed by 2026.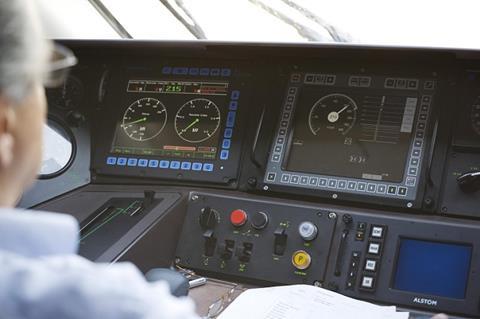 To support efficient migration, Alstom is providing an onboard package that integrates Norway's legacy ATC-2 train protection system within the ETCS onboard unit, avoiding the need for separate hardware. This is intended to reduce the installation and maintenance required and ensure better availability.
'Now beyond strategy and plans, I am proud to confirm that ERTMS B3R2 signalling solution has made the move from paper specification to actual implementation', said Alstom Nordics Managing Director Rob Whyte on October 15. 'After further demonstration and tests, the first trains will be certified for commercial service in Norway in early 2021.'
'A successful ERTMS implementation depends upon operational vehicles', added Bane NOR Executive Vice President Digitalisation & Technology Sverre Kjenne. 'I am convinced Alstom will succeed with a timely technical solution as well as the physical rebuild of the trains, and I am very pleased to literally have them onboard.'