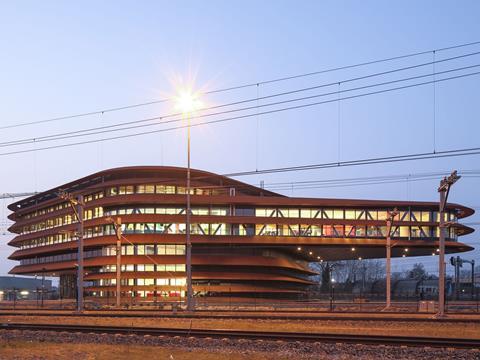 NETHERLANDS: Infrastructure manager ProRail officially opened a 'robust, ultra-modern and striking' control centre in Utrecht on June 4.
The 4 500 m2 structure was designed by de Jong Gortemaker Algra architects and built by Visser & Smit Bouw, with Arcadis as project manager and HOMIJ responsible for mechanical and electrical engineering.
The 1 000 m² control floor provides a large open space from which the 100 staff have a view of the tracks and the surrounding area. The equipment is located on the floor below, and the control centre has back-up power supplies and redundant IT systems.
The building is intended to be immediately recognisable as a railway structure. The steel and glass exterior was designed to give a robust and industrial appearance, with its horizontal lines inspired by railway track and overhead electrification structures.
The control centre has triple glazing, hybrid cooling and solar panels. On the north side where shading is not required the louvres have a narrow horizontal profile, gradually changing to broad and steeply-slanted on the south where summer sunlight is blocked and heat is reflected. The gradual change of shape aims to create a dynamic effect which appears to move when viewed from a passing train.
The location at the junction of the routes from Amsterdam and Woerden was chosen because it lies outside the area which is evacuated in the event in of an emergency at Utrecht Centraal station.