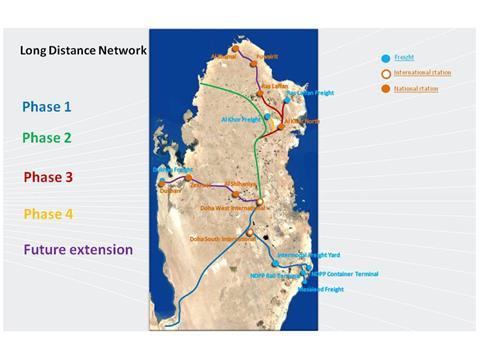 QATAR: National railway project promoter Qatar Rail launched a new prequalification process for the civil works on the first phase of the planned Long Distance Passenger & Freight Rail network on February 18.
A prequalification exercise for a combined civils and railway systems contract was launched last year, but subsequently terminated. The new process will see the civil works and railway systems contracts awarded separately.
The Phase 1 civils contract covers the design, construction, integration, testing, commissioning and defect liability for earthworks, bridges, culverts and camel crossings, 133 km of slab track (with the Doha West International option potentially adding a further 23 km), freight yards and station architecture.
Prequalification documents are to be submitted by March 22. Qatar Rail expects to release documentation in mid-2015, with a five-month tendering period. The contact would then be awarded in mid-2016, with Phase 1 scheduled to open for commercial service at the end of 2018.
Qatar Rail is to undertake a separate procurement to appoint a railway systems supplier, which would act as a subcontractor to the civil works contractor. This subcontractor would provide ETCS Level 2 and telecoms equipment including GSM-R suitable for future operating speeds up to 270 km/h.
Further tenders would cover the procurement of rolling stock, and the appointment of an operations and maintenance contractor.
The Long Distance Passenger & Freight Rail project is one element of the Qatar Railways Development Programme, which also includes the Doha metro and various light rail schemes.
Qatar Rail has appointed DB International to support the development of the scope and requirements for the long distance network operations and maintenance contract.
Qatar Rail Long Distance Passenger & Freight Rail network
Phase
Year of Completion
Route-km
Scope
Details
1
1A
2018
71
Saudi Arabian border (Abu Samra) - Triangle junction
Mixed traffic line suitable for 200 km/h passenger and 120 km/h freight services.
1B
62
32 km Triangle - Doha intermodal yard.
30 km Doha intermodal yard - Mesaieed port and industrial area.
Doha South International station.
Freight.
1C
23
Doha West International option: spur to Doha West International station, and construction of station including metro interchange.
Non-electrified line suitable for 200 km/h passenger trains.
2
2021
160
Doha West to Bahrain.
Electrified passenger line suitable for 270 km/h within Qatar and 250 km/h in Bahrain.
3
2027
80
Doubling Phase 2 Doha West – Bahrain
Links to Al Khor and Ras Laffan.
Electrified line suitable for 250 km/h passenger and 120 km/h freight trains.
4
2030
4
Al Khor Freight link.
Doubling and electrification of Phase 1 to Saudi Arabian border.
Doubling of the remainder of the line to Bahrain.
Mixed traffic lines for 270 km/h passenger and 120 km/h freight trains.
Option
to be confirmed
128
Doha - Dukhan
Mixed traffic line.