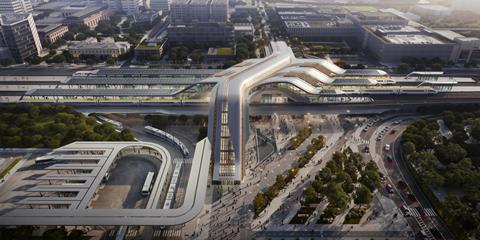 EUROPE: Further contracts have been awarded for the Rail Baltica standard gauge line project, and the name of the future terminal in Tallinn has been announced.
Tri-national project promoter RB Rail has awarded Spanish consultancy company Ineco a €116 625 contract to identify opportunities to exploit synergies between the railway and the other infrastructure, energy and telecoms developments on a 'dig once' basis.
Infrastructure options include providing rural and regional connectivity, while energy synergies could cover grid resilience, standby power, electric vehicle charging, renewable sources and other emerging opportunities.
RB Rail said the study would review international experience and best practice, and reinforce the importance of taking an integrated cross-border approach.
'Dig once is a time-tested, intelligent and highly efficient approach used by successful megaprojects to deliver value and benefits far beyond the underlying infrastructure elements', said Kaspars Briškens, Head of Strategy & Development at RB Rail. 'Rail Baltica must be recognised as more than just a railway', he believed, as it would 'pave the way for more integrated planning and synchronised developments of other related infrastructure so that the value of potential improvements is significantly greater than the sum of its parts.'
Latvian implementation agency EDZL has awarded a consortium of local company SIA BRD Projekts and Sintagma of Italy a contract to provide design and construction supervision services for the Rail Baltica Skulte and Iecava infrastructure maintenance facilities.
Nord Projekt and Reaalprojekt have completed preliminary designs for the rolling stock depot which is to be built on the outskirts of Tallinn.
Design work for the Rail Baltica passenger terminal in the Ülemiste area of Tallinn has been completed by Zaha Hadid Architects and local company Esplan, and environmental surveys are being conducted by Hendrikson & Ko ahead of tendering for the construction contract this year.
Following a public competition, it has been announced that the station is to be named Linda, after a mythical figure from Estonian national epic Kalevipoeg.