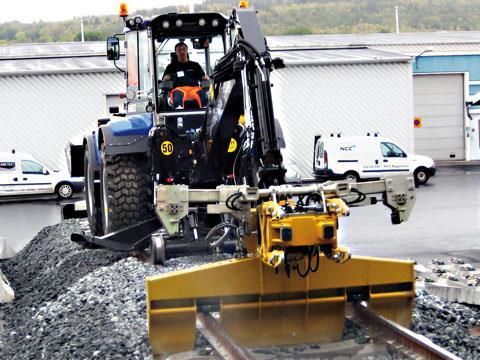 SWEDEN: On display at Nordic Rail was the Huddig 1260B TPM tractor which demonstrated its ability to replace sleepers rapidly on a section of outdoor track.
Already in use in Huddig's home market in Sweden, the tractor is currently undergoing approvals in Germany to allow use on DB Netz. The vehicle is equipped with both road and rail wheels, and features an articulated centre pivot and hydrostatic control equipment to allow it to access remote sections of line away from road crossings.
The 1260B TPM is powered by a Cummins QSK6.7 rated at 116 kW, feeding a hydrostatic two-speed ZF gearbox. The backhoe gives a digging force at bucket pivot of 63 kN.
Other attachments can be used for vegetation clearance, fastening removal, rail replacement, ballast filling and work on high-level lineside structures.