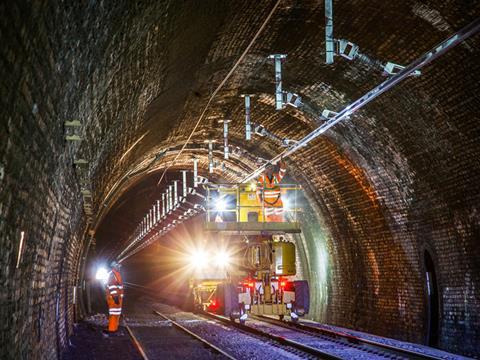 UK: Furrer+Frey's Rigid Overhead Conductor Rail System has been installed in UK for the first time, to support the testing of Hitachi IEP trainsets through the 1·2 km Stanton tunnel which forms part of the Old Dalby test track.
ROCS uses a rigid bar rather than tensioned overhead line, which Furrer+Frey says reduces the likelihood of dewirement or snapping. It has been tested to withstand a fire for more than 30 min, providing enough time to move a train out of the tunnel.
Supported by drop tubes anchored to the roof of the tunnel, the CR4 conductor rail profiles are supplied with interlocking joints to allow rapid installation. The tensioned contact and catenary wires over the plain line track are terminated at an anchor point each side of the bore, and a special transition bar guides the pantograph onto the conductor rail.
'This really is the ultimate 'fit and forget' system', according to Furrer+Frey Engineering Manager Ankur Saxena. 'There are no moving parts and no tensioning, so there is very significantly reduced risk profile compared to traditional OLE. In addition, with no moving parts, the ROCS needs much less maintenance which can often prove problematic in tunnels.'