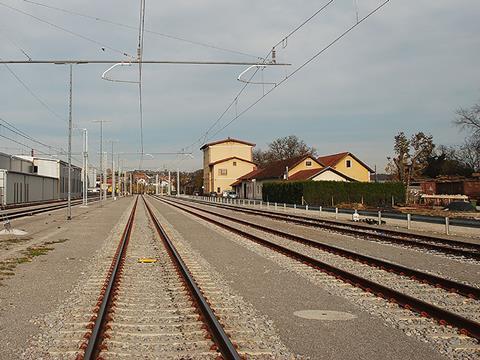 SLOVENIA: SŽ Infrastruktura has begun test running between Pragersko and Ormož as it nears completion of the first phase of a project to modernise the 110 km line from Pragersko on the Ljubljana – Maribor route to Hodoš on the Hungarian border.
The upgrade will increase the axleload to 22·5 tonnes and raise maximum speeds from between 80 km/h and 100 km/h to 160 km/h, bringing significant reductions in journey times. Capacity will be increased from 78 to 84 trains/day on the Pragersko – Ormož section, and from 46 to 67 trains/day as far as Hodoš.
A 6 km section of the route has been realigned, six stations modernised and noise barriers installed. A total of 19 level crossings are being replaced by bridges, 27 crossings equipped with barriers and 32 crossings removed.
The line has been electrified at the Slovenian standard 3 kV DC, with five substations and a boundary with Hungary's 25 kV 50 Hz electrification at Hodoš station.
EU cohesion funds have covered €231·1m of the €465·5m cost of the project, which began in 2009 with SŽ Projektivno Podjetje responsible for design work. The line forms part of the Lyon – Trieste – Ljubljana – Budapest – Ukraine TEN-T Priority Axis 6. ETCS Level 1 has been instaled as part of a €56m project covering the Sežana/Koper – Ljubljana – Hodoš route.