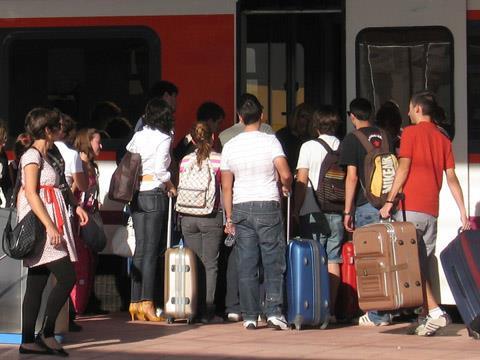 SPAIN: Under its 2009-15 investment programme for the Madrid suburban network, the Ministry of Development has awarded study and design contracts worth a total of €22m.
Prorail Ingenieros Civiles is to design the Humanes – Illescas extension of route C5, including track doubling, electrification and two stations, while Técnicas Reunidas is to study options from the southern terminus of route C4 at Parla to Torrejón de Velasco.
A contract to develop options for a line from Alcobendas-San Sebastián de los Reyes to San Augustín del Guadalix has been awarded to Investigación y Control de Calidad and Geoconsult España. Alcobendas is one of the northern termini of route C4, and the extension would add five stations.
Under the ministry's programme for Barcelona, ETT has a €13m contract to select an option for a 106 km orbital outer suburban route connecting Vilanova i la Geltrú with Mataró. This has been costed at €316bn, including 55 km of new construction on the Vilanova i La Geltrú – Vilafranca del Penedès, Martorell – Terrassa, Sabadell Sud – Santa Perpètua de Mogoda and Granollers – Mataró sections. Consultation is underway on a 222 km route between Platja de Castelldefels and the University of Barcelona, serving 11 stations and running underground for 184 km.
In Sevilla, the southern terminus of RENFE route C1 has been extended from Utera to Lebrija, with one intermediate stop at Las Cabezas de San Juan. New stations have been brought into use at Aeropuerto and Guadalhoce on route C1 in Málaga, rebuilt under a €193m package of works involving the construction of a new double-track alignment running for 29 km in tunnel.