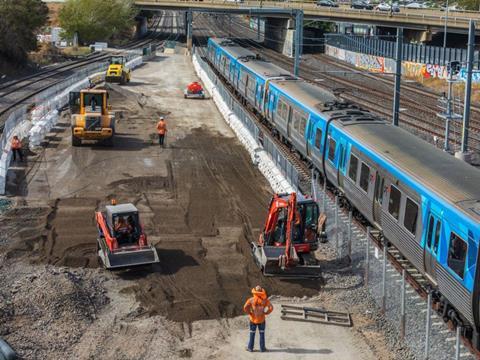 AUSTRALIA: The Victoria state government has approved the first package of civil works to upgrade the 39·5 km Sunbury suburban line, which forms the electrified suburban section of the Melbourne – Bendigo main line.
The upgrading will pave the way for enhanced services following completion of the Metro Tunnel project in 2025. The cross-city tunnel now under construction will connect the Cranbourne-Pakenham line in the southeast with the Sunbury line in the northwest, releasing capacity on the city loop for more trains on other suburban routes.
The A$215m contract announced by Minister for Transport Infrastructure Jacinta Allan on August 10 is the first to be placed under a A$2·1bn package of upgrading works for the Sunbury line included in the state's 2018-19 budget. John Holland, CPB Contractors and AECOM will work with Metro Trains Melbourne on a range of infrastructure improvements.
The contract covers the construction of platform extensions at 12 stations between Sunbury and Footscray to accommodate the longer High-Capacity Metro Trains being supplied by the Evolution Rail consortium of Plenary, CRRC Changchun Railway Vehicles and Downer Group. Wheelchair boarding ramps will also be provided at eight stations. The traction power supply will be enhanced, while improvements will be made to the EMU stabling facilities at Sunbury, Calder Park and Watergardens.
'We're not wasting a moment delivering these vital upgrades', said Allan. 'Sunbury passengers will be some of the biggest beneficiaries of the Metro Tunnel and new high-capacity trains – and this project is a critical part of delivering those benefits.' Site investigations are expected to start before the end of August, with major works to begin by the end of this year.
The operation of longer and more frequent trains following the opening of the cross-city tunnel is expected to provide capacity for an extra 113 000 peak hour passengers on the Sunbury line each week.